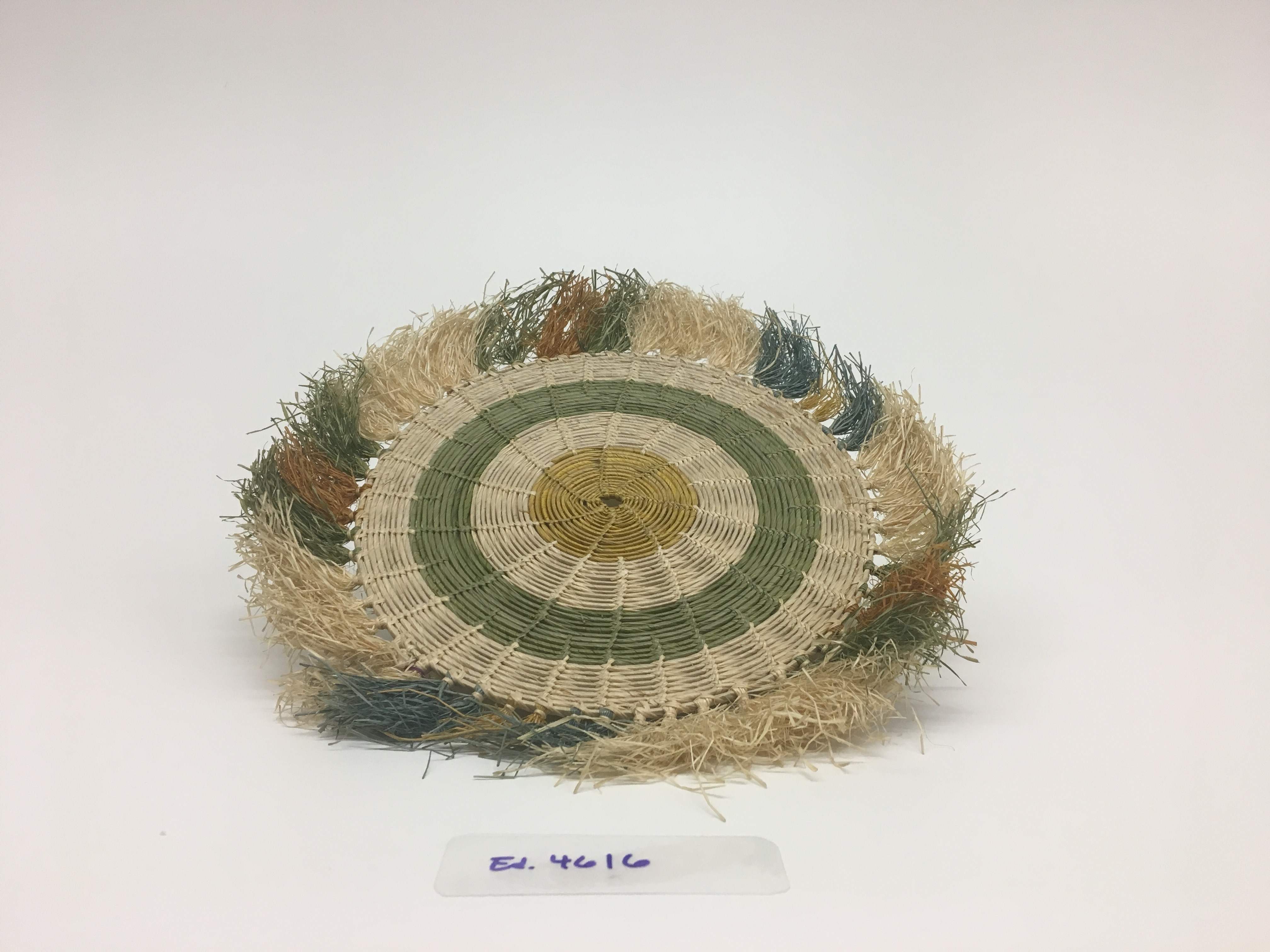 Obon̄ (tray)
kimej (coconut leaves (from new shoot))
mālwe (coconut frond midrib)
maan̄ (pandanus leaves)
ED# 4616
Ijjino ilo iol̗ap tata, rej karōk ruo im lōn̄ l̗o̗k mālwe im lukwōj kōn kimej. Innām, rej kab kore kōn maan̄ eo. Rej l̗oor im ālij jekjek in ilo aer kwōji mālwe ko bwe ren tāte ippān doon im wal̗o̗k aer jekjekin doulul. Lōm̗ān de in aer tāte m̗ae iien edede l̗o̗k. Ijeko rej kon̗aan kwal̗o̗k uno ko ie ilo obon̄ in, rej kōjerbali kimej ko em̗ōj unoiki kōn uno ko kōjerbali n̄an m̗ōn̄ā. Rōn̄aaj tāte im l̗o̗k dede l̗o̗k jon̄an depakpak eo rej kōn̗aab, rej kainōknōke jabōn kōn kimej ko rje jab uno im āji n̗ae obōn̄ in.
This is a fringed obon̄ (tray). Starting from the middle and working outwards, the midribs are coiled by stitching one on top of another. Then, the midribs are wrapped with the pandanus leaves. The steps are repeated as the coil is stitched to form a circular shape. The stitching continues until the desired diameter is reached. On this obon̄, coconut leaves dyed with food coloring are used. The coiling continues, and when the desired width is reached, the fringe is decorated with both dyed and undyed coconut leaves.