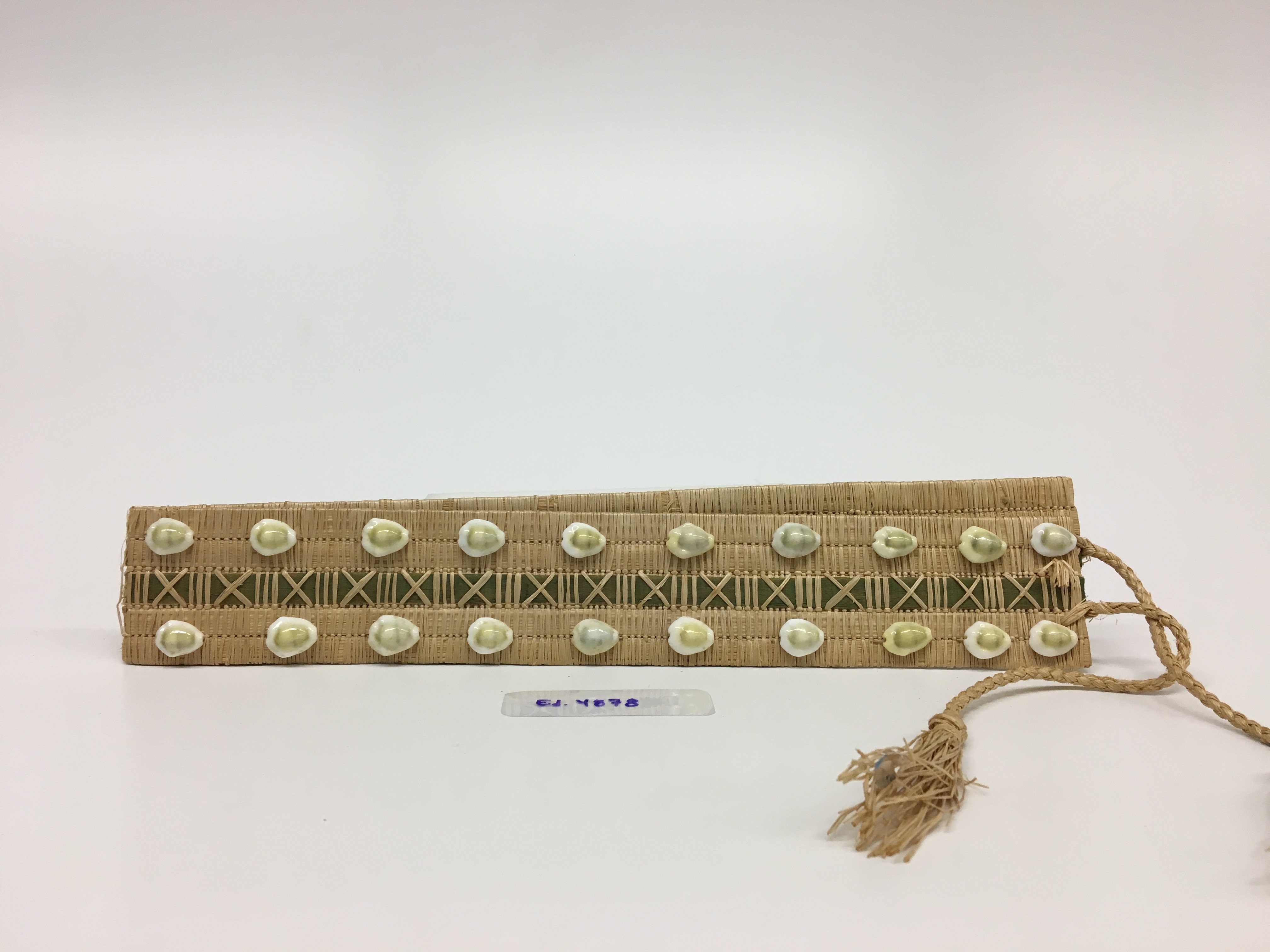 Kan̄ūr (belt)
libbukwe / likajjid (cowrie shell)
jab (jān l̗o̗) (hibiscus fiber)
kimej (coconut leaves (from new shoot))
mālwe (coconut frond midrib)
ED# 4878
Accessioned February 1962. Gift of Gladys Davis.
Kan̄ūr in ej kōm̗m̗an jān libbukwe, jab eo jān kilin l̗o̗, kimej eo kōmatte jān juubub in ni eo, kab mālwe eo. Rej erl̗o̗ki mālwe ko im karōki iturin doon. Innām rej pirōkrōki kōn jab eo im kimej eo. Kein loklok eo ilo m̗aan kan̄ūr in ej kōm̗m̗an jān kimej eo kab jab ko em̗ōj bujeki ippān doon bwe en wal̗o̗k kein loklok eo. Libbukwe ko rej kaddāpi l̗o̗k ijeko rej lali ke rōm̗m̗an n̄an karōki libbukwe ippān doon ie im kōm̗m̗an annan̄ ie.
This belt is made from cowrie shells, hibiscus bark, undyed coconut leaves and pandanus leaves, and coconut frond midribs. It was used in the past to keep clothing in place. The midribs are laid out side by side and then plaited together with the hibiscus fiber and coconut leaves. The tie and attachment are coconut leaves and hibiscus fiber braided together. The cowrie shells are added at the desired spots in the designs and tied with coconut leaves.